A couple Thursdays ago a few of the kids and I made our way across town to the
Bethlehem Farmers' Market
. I haven't been there very often since we moved from the South Side and I was pleased to find that it was still there. The venue has changed, it used to be held in a large parking lot and now is set up at Campus Square at Lehigh University.
I was very happy to find that Suyundalla Farms was still there. They were one of the first vendors at the market and are the only surviving original vendor. Kudos! They still sell some of the finest produce and have branched out into selling fresh lamb products.
Our first stop was their stand and these are a few of their wares:
Garlic scapes


Snow peas


Beautiful red cherries


Napa cabbages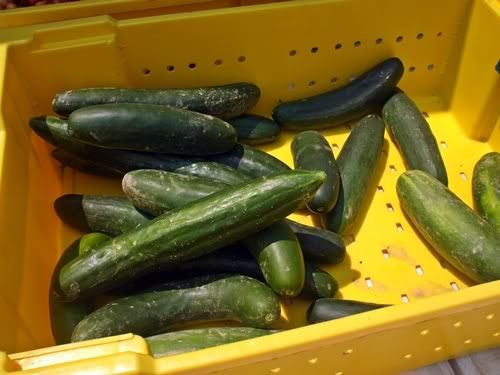 Cucumbers
We took home everything above, except for the Napa cabbage, and added some of their broccoli and fresh lamb sausages as well.
We stopped by Bechdolt's Orchard stand for fresh honey and then hit up
The Flour Shop
for a loaf of truly awesome semolina bread.
I could go on about that bread, but I've come to the conclusion that I need to do a full review of this bakery. If you live in the Lehigh Valley and haven't been there yet (the store is located at Macada Plaza - 2980 Linden Street ), you really need to stop by and pick up some baked goods. These guys know their stuff - trust me on that one.
So, here is what we ended up with: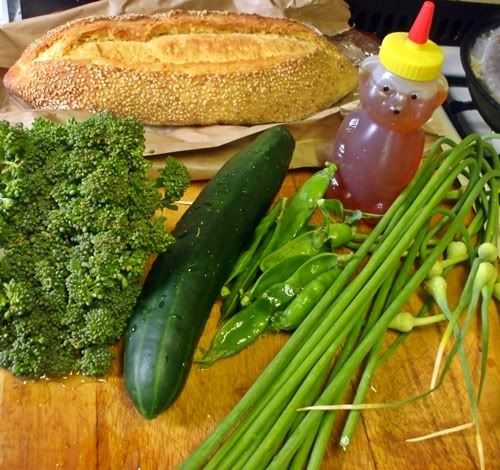 Broccoli, cucumber, snow peas, garlic scapes, honey and semolina bread.
I threw the lamb sausages on the grill with the scapes, sauteed the broccoli and snow peas, sliced the bread, and we had a terrific meal that evening - well worth the just-over-3-mile-walk.