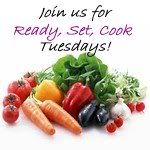 ...called, Ready, Set, Cook! named for the old Food Network show and followed loosely on it's rules. We haven't played in quite some time and I don't know when or if we'll ever play again! I'd love to do it, but life happened and I couldn't keep up and then another blogger came along and started something very similar and ... you know.

So, if anyone is up for it, monthly - weekly seemed too often - now is your chance to let me know.

The rules are linked up to the image above, if you're clueless about what this is - and follow the tags below to see games we've already played.