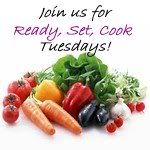 Today's edition is going to be a bit different.

Last week's ingredients were based on this year's top flavor predictions.
Today's game will be based on the predictions made in the newest issue of Kraft Food & Family. The foods picked by their staff are; seasoned tomatoes, salmon, maple, pork and dark chocolate.

Now, your challenge for today is not to use all 5! I can't think of anything remotely edible that would have all 5 of those foods in one dish. I'd love to see someone else's take on these so, pick one or two of these top foods for 2007 and share your favorite recipe or concoct something brand new.

Have fun!