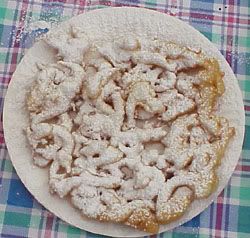 I haven't. We are hoping to get to at least one before it gets too cold to be enjoyable. I plan on being dragged away from summer kicking and screaming this year! It definitely went far too quickly for me this time.

So, in honor of all that is summer, including Fair food, I made funnel cakes last night for dessert. Yes, you can make them yourself! It seems that one of my 14 year old daughter's friends is fascinated by the fact that I know how to make funnel cake. Honestly, until I was married I didn't know you could make your own either. My mother-in-law made them occasionally and they were just like the ones we would get at the carnival.

Just after my first child was born we took a drive out to Farmer Brown's, a mostly Mennonite run farmer's market, and I purchased my first and only Amish cookbook there. The recipe for funnel cake is included and I set to making my own and have never stopped.

It really isn't difficult at all but I have a few tips. A cast iron skillet works best for these. You can use a deep fryer but I find it isn't necessary since the depth of the oil only needs to be about an inch and a half or so; enough for the cake to float just a bit and not stick to the pan. Also, home use deep fryers aren't really roomy enough.

You don't need a funnel cake pitcher at all, pouring the batter in a thin stream has worked well for me all these years. You can purchase one though and they look like this:



A larger spider or metal spatula is helpful in removing them from the oil although if your batter is right tongs should work.

This is the recipe as it is in the book, Amish Cooking by Sallie Y. Lapp.

Funnel Cake

Combine 1 pt. milk
2 beaten eggs
pinch of salt
1/2 t baking powder
enough flour to make a loose batter

Place lard in an iron skillet, enough to cover about 1 inch of dough, heat the lard and then begin poring the batter through a funnel, beginning in the center of the pan and gradually pouring the dough from the center outward in a circular manner. (Do not allow the dough to tangle the previously poured batter). When the funnel cakes are light brown, remove them from the skillet and serve with maple syrup, a tart jelly or simply sprinkle them with powdered sugar.


The only thing I take issue with here is that she says not to tangle the dough. I always start in the center and run concentric circles out to the edge of the pan and then zip across the whole thing again so that it all stays together. If you don't, it's hard to get it out of the pan all at once.

Sometimes I add a tablespoon or so of sugar to the batter and a teaspoon of vanilla for flavor. We also like cinnamon sugar on these. I've seen them with strawberries and whipped cream and with ice cream sundaes made right on top. I'm still a purist when it comes to these and I like them as is with powdered sugar.