Someone wrote to me to request a recipe from one of my cookbooks, so I dutifully pulled the book from its shelf and looked for the recipe. I got so amused while looking through the book that I had to share some of it.

This is the recipe I sent. I only just emailed it so I don't know if it's what she is looking for or not. This is from the "How To Get The Most Out Of Your Sunbeam Automatic Mixmaster" cookbooklet from 1950. The cover of my copy is a bit battered, but the inside is still great.
By the way, don't make this recipe now unless it's cooler where you live or you have A/C! Otherwise, I would be going against my own good advice.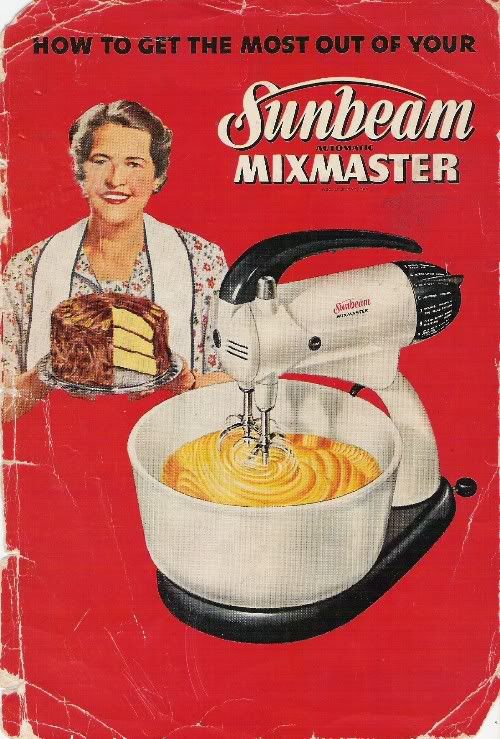 Thrifty Cup Cakes
("Short-Cut" Method)

Preparation: Have shortening at room temperature. Assemble all ingredients and utensils needed. Grease 3-inch cup cake pans. Sift flour once before measuring. Preheat oven to baking temperature.
Sift into large bowl of MIXMASTER:
1¼ cups sifted cake flour
2/3 cup sugar
1¾ teaspoons double-acting or (2¼ teaspoons fast-acting) baking powder
½ teaspoon salt
Add:
1/3 cup shortening (soft)
1/2 cup milk
1 teaspoon vanilla
Beat it on No. 3 speed 2 minutes, scraping bowl while beating. Stop mixer. Scrape beaters.
Add:
1 egg, unbeaten
Beat 1 minute longer, scraping sides of bowl while beating. Fill cup cake pans 2/3 full.
Bake: (375° F)-moderately hot oven-about 15 minutes or until golden brown. Turn out of pans. Cool. Ice with Fudge Icing on Page 18. Put a half nut meat on top of each or sprinkle with cocoanut.
Makes: 1 dozen large cup cakes.

Easy Fudge Icing

Combine in top of double boiler:
3 squares (3 oz.) unsweetened chocolate
¼ cup butter or margarine
Melt over hot water.

Put into small bowl of MIXMASTER:
2 cups sifted confectioner's sugar
1/8 teaspoon salt
1 teaspoon vanilla
1/3 cup hot milk or cream
Beat on No. 2 speed until blended. Then beat in chocolate mixture on No. 10 speed. Beat until thick enough to spread. More confectioner's sugar or cream may be added to give desired consistency.
Makes: Enough icing for two 8-inch layers.

These are what I was getting so amused by. I look at these images and mostly think that they're neat. I sometimes wish we could go back to simpler times but these ads are just so funny. Note that almost all of them say something about being "automatic". These are the same appliances that nowadays would cycle endlessly and drain power from elsewhere. I've owned some older appliances in my time and they are also really hefty. I have to say though, on the whole they were made far better than much of the "junk" we buy today.

Have fun looking, and click on the pictures to open them up fully so you can read them!